This article was initially published on June 11, 2019, and updated with the inclusion of new articles written by Said El Mansour Cherkaoui on China Tech Development
US and Huawei Update on US-China High Tech Adversity
saidcherkaoui@triconsultingkyoto
https://triconsultingkyoto.com
Nobody can stop knowledge when it is carried from person to person, we can make it go slowly but we cannot stop it:
Stopping knowledge is stopping the existence of humanity and its inner relation.
The flow of knowledge is transformed in business intelligence and It is like water, you can build a dam but you cannot stop the water from flowing on the top of the dam, over the dam, on the side of the dam, and under the dam.
Huawei is the water in the world of high-tech and semiconductor as well as communication. and it is flowing over all the hurdles put on its orientation and trajectory to be a knowledge shared with the rest of humanity.
Semiconductor Hurdle in US-China Relation
Huawei Hit with Racketeering
As justification and reinforcement of the accusations and the reasons for the dismissal of Huawei from participating in the US telecom and technology marketplaces, the Department of Justice and the FBI announced today that it has brought 16 charges against Huawei in a sprawling case with major geopolitical implications (you can read the full 56-page indictment here).
The U.S. Government has charged Huawei with intellectual property theft under the federal racketeering law. The move exponentially increases the potential penalties against the company if it's convicted. The Justice Department alleges Huawei stole technology from six U.S. companies over decades. Huawei, whose equipment has been banned in the U.S., already faces charges it skirted sanctions against Iran and conducts espionage for Beijing.
Over the last decade, Huawei has grown into a powerhouse. Founded in 1987 by Ren Zhengfei, a former People's Liberation Army engineer, it generated over $90 billion in revenue in 2017. Its equipment is the backbone of mobile networks around the world, and its smartphones are popular in Europe and China.
Is Huawei the China Way to the World Superhighway?
Huawei is one of the world's biggest makers of smartphones and networking equipment. It is at the heart of China's ambitions to reduce its reliance on foreign technology and become an innovation powerhouse in its own right. China is pumping hundreds of billions into its "Made in China 2025" plan, which aims to make China a global leader in industries such as robotics, electric cars, and computer chips. The introduction of 5G wireless technology, which hinges on Huawei, is a top priority.
That has made Huawei become a symbol of China's technological prowess and evolution from a country that makes cheap but unreliable gadgets to cutting-edge products that can rival the best of Silicon Valley and other Asian technology giants.
For Huawei to succeed at building out 5G networks, it needs the United States. Out of Huawei's 92 main suppliers, 33 are US companies, including chipmakers Intel, Qualcomm, and Micron, and software firms Microsoft and Oracle.
This is what China accomplished during 5 Leaders: From Chairman Mao to the actual President Xi, making China a world-leading technological independence that even the United States and the rest of the advanced countries are trying to limit the expansion and renewal of its capabilities in terms of creativity, innovation and improvement.
For a further presentation on this giant and grandiose leap of China from an agricultural country to a world-class technology leader, see my research and publication on the same topic in the following publications:
USA – China: Cultural Clash of Trade Titans and Tech Giants
End of U.S. Neo-Liberalism and Rise of Neo-Capitalism in China President Trump's Positions on Trade with China TRADE … Read more
Trump Way and Huawei: Collateral Damage or Bargaining Chip of the US-China Trade War?
---
President Trump's administration is imposing new restrictions on Chinese technological equipment manufacturers harnessing their penetration of other markets in the Western world, emerging countries, and even countries with lower income like Morocco. In this perspective of the new concept of "Commercial and Technological Containment," that replaced the one of the "Cold War," the prime target became Huawei which is at the forefront of the development of equipment and gears of highly advanced communication technology in China and even in the World.
For months, Donald Trump has accused the Chinese manufacturer of telecom equipment and smartphones Huawei of facilitating spying operations in Beijing through its equipment. The US government has depicted Huawei as a security risk, warning other economies that 5G network equipment supplied by the company to telecoms network operators around the world could be compromised to aid espionage and surveillance by Beijing.
For a long time in the crosshairs of the American authorities, the Chinese group of new technologies Huawei has been the target of a series of pressures by several countries.
Turning the spotlight on Huawei, however, adds a new wrinkle. Huawei is a state champion that plays a crucial role in China's rollout of 5G. The company has spent heavily on research and development and on marketing its 5G devices.
---
USA – China: Cultural Clash of Trade Titans and Tech Giants – Oakland Chronicle
End of U.S. Neo-Liberalism and Rise of Neo-Capitalism in China President Trump's Positions on Trade with China TRADE
Key Points of US Administration against Huawei
The other 10 charges related to the alleged theft of technology from T-Mobile USA, a subsidiary of German operator Deutsche Telekom, by Huawei. This is "Tappy", a robot designed to test smartphones and mimic the action of human fingers on a laptop screen.
The Trump Administration blacklisted the Chinese technology giant in a policy move that will prevent it from buying semiconductors, software, and other components from American suppliers. The U.S. government has warned that Huawei presents a security risk because the equipment it supplies to telecom carriers around the world could be compromised to aid espionage and surveillance by Beijing.
In early May 2019, the situation quickly deteriorated between the negotiators during the U.S.-China meeting on Trade relationships in Beijing. The US accused China of reneging on crucial terms that it said had been agreed upon. Trump immediately escalated the conflict by imposing tariffs of up to 25 percent on US$200 billion of Chinese goods and threatened more.
Those talks now face an even steeper challenge. The aim will be for the United States to ease its tariffs; in exchange, China will be expected to lower trade barriers and further open its markets to American businesses.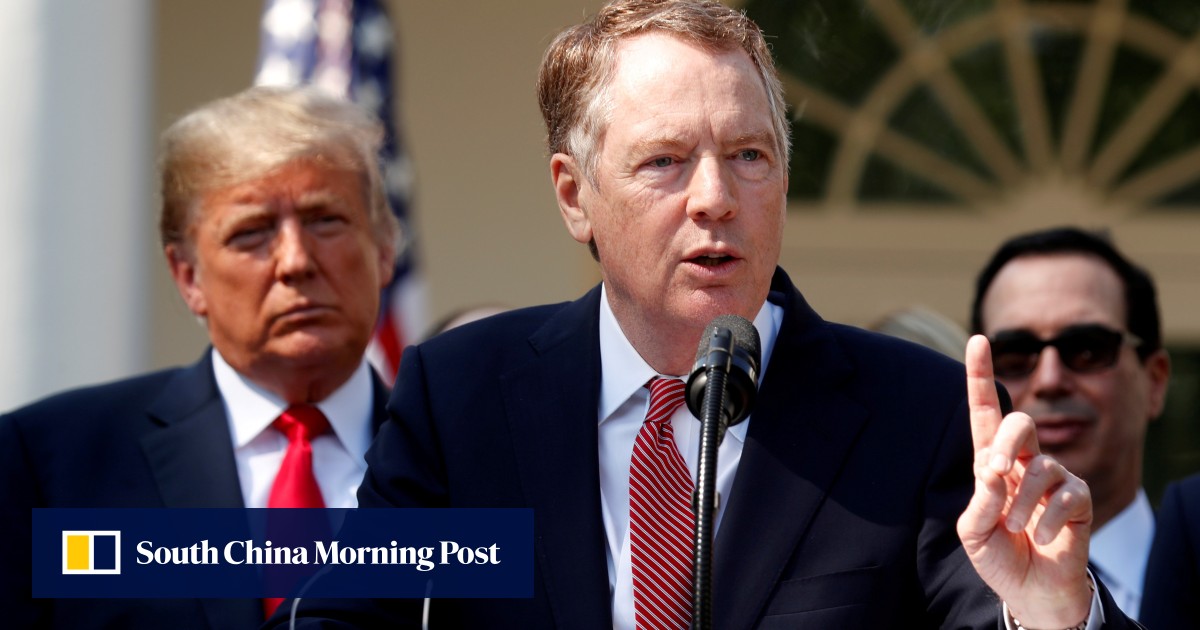 Inside Donald Trump's blacklisting of Huawei: China hardliners prevail in battle between two White House camps | South China Morning Post
The timing of Huawei's punishment 'suggests strongly that it's connected to the trade negotiations because there's no reason
On May 15, the U.S. President signed the executive order banning U.S. companies from using communications technology from anyone deemed a national security threat.
The US Commerce Department's decision to restrict Huawei and 68 of its affiliates from purchasing American technology jeopardizes the Shenzhen-based company's network equipment and smartphone businesses. Under the order, US suppliers are able to appeal for special approval to continue selling to Huawei.
Huawei chairman Liang Hua told a small group of American reporters visiting the company's China operations that Google is working with the Commerce Department to find a solution. He said it would benefit consumers if Google and the US government can work out a solution.
Huawei expects a $30 billion hit to revenue this year and next from U.S. sanctions, said its founder and CEO. Ren Zhengfei. The Chinese telecoms giant is bracing for a 40% to 60% drop in global smartphone shipments, reported Bloomberg, citing anonymous people, and last week canceled the launch of its new laptop because of the sanctions invoked on security grounds.
(Read recent declaration Bruno Kahl on 10/29/2019 about his lack of trust in Huawei: he is the Head of the German Intelligence and Counterespionage: "Germany spy chief warns against 5G role for Huawei – Bruno Kahl says Chinese telecoms group 'cannot be trusted fully')
Points of Conflictual Interests
Founder Ren Zhengfei had just retired from the People's Liberation Army before setting up Huawei in Shenzhen. Ren continually infused vitality within the company by sharing his passion and establishing structure in the enterprise. His selfless nature showed in his possession of only a mere 1.4% of company's shares.
Today, Huawei is China's largest private exporter with two-thirds of its $39 billion revenues from overseas.
The other derivative of this new global technological and commercial battles whose challenges remain the redefinition of the conditions and terms of international trade and the renegotiation of the foundations of market penetration including the processes of awarding international contracts.
The principal cause and reason for such "rising shieldings" is that China is becoming a serious challenger to count on and a new major player in the international market for goods, primary products, technological equipment, and their method of financing which include the adjacent infrastructure in African countries, the economies bordering China or those that are actually part of the new trade strategy based on the development of a new silk trade route. Even Italy is joining and supporting China in establishing the new route between Beijing and Roma as a celebration of Marco Polo's connection of the two ancient worlds:
Huawei is conducting a campaign of Goodwill and Public Relations to attenuate the impact of the sanctions and denunciations conducted by President Trump's administration to the detriment of the U.S. and global business operations and alliances sought by Huawei, especially concerning the installation and the equipment of the G5 Network.
Bloomberg presents a Coffee With Ren live from #Huawei's HQ.
Huawei is in dire need of countering the damage caused by the accusations made by the US Government that the Chinese Government can have access to all the networks around the world that Huawei has equipped, built, and maintained or even served as technical consultant and adviser. The need for Huawei to counter such a US offensive has even made coffee to become the favorite drink around which a conversation can be carried in China with the CEO and Founder of Huawei Ren Zhengfei, instead of the traditional Chinese drink that is tea.
United States Administration and China Technology Companies
President Trump has tied national security to advancement in technologies like wireless networks and has made protection of the domestic tech industry a part of his agenda. In March, President Trump blocked a $117 billion bid by Broadcom, a Singapore-based chip maker, for the American chip maker Qualcomm, citing national security concerns and how it might allow China — specifically citing Huawei — to leap ahead in next-generation 5G wireless networks.
A month later, the Commerce Department banned ZTE, China's second-largest maker of telecommunications equipment, from using components made in the United States. Federal authorities said ZTE had violated American sanctions against Iran and North Korea, in a move that caused the Chinese company to $7.5 million bail for a time.
The Commerce Department in April banned American companies from exporting essential components to ZTE, which the agency said had violated an earlier deal punishing the company for evading sanctions on Iran and North Korea. The US government said it posed "a significant risk of becoming involved in activities that are contrary to the national security interests of the United States." In October, the Commerce Department issued a similar export ban for state-owned Chinese chipmaker Fujian Jinhua.
The high-profile move forced ZTE to halt almost all of its operations for months. ZTE collapsed within weeks, Trump later walked back on the ZTE ban, allowing the company back into the US market after it agreed to pay a fine totaling US$1.4 billion, replace its board and senior leadership, and the placement of a handpicked US compliance oversight team to inspect its operations.
At the same time, Chinese President Xi Jinping has been pushing for China's tech sector to become more self-sufficient by cutting reliance on foreign suppliers. Xi Jinping says that he wants China to dominate the 5G market globally,
Huawei in the Periscope of the U.S. Administration
The United States and China have also been locked in a struggle for high-tech supremacy, in a race that has increasingly taken on political undertones this year. While the United States has long claimed an advantage in the tech industry, China's internet companies, semiconductor makers, and telecom equipment makers have all been growing rapidly, with many benefiting from government investment.
The US government has been investigating Huawei for at least a decade. In 2005, a congressional report said that "industrial espionage is an active tool of China's strategy for technological development". The report singled out Huawei as a key Chinese company supporting the country's development of 3G.
Fourteen years later, Washington's moves included Huawei and ZTE, the two giant telecommunications makers that were shut down from the U.S. market.
$7.5 million bail – It's through that lens that some in the Chinese government view the arrest of Huawei's chief financial officer, Meng Wanzhou. Meng was detained on December 1 in Canada, at the request of US authorities seeking her extradition.
This happened on the same night that President Trump and President Xi Jinping of China dined together in Buenos Aires and agreed to a 90-day trade truce. The two countries are set to begin tense negotiations in hopes of ending a trade war that has been pummeling both economies.
On Saturday, China said Meng's arrest "severely violated the Chinese citizen's legal and legitimate rights and interests, it is lawless, reasonableness and ruthless, and it is extremely vicious."
US case against Huawei CFO revealed in Canadian court
The Huawei risk
The Meng case, then, has major ramifications. The US government claims that Meng covered up violations of sanctions on Iran, according to Canadian prosecutors, who spoke at Meng's bail hearing in Vancouver on Friday. Whether Huawei itself faces legal trouble remains to be seen, though there's speculation that the company could receive an export ban due to sanctions violations like the one imposed on ZTE.
Such a ban, if enacted, would be catastrophic for the company — and would derail Beijing's plans to deploy 5G on a large commercial scale by 2020.
"The arrest of Huawei's CFO in Canada will significantly raise the uncertainty of China's 5G timing since any US export ban imposed on Huawei could either delay China's 5G rollout or significantly reduce the scale near term," Jefferies analyst Edison Lee said in a note Friday. Such a ban would force Huawei's business to "come to a halt," he added. In this, the United States has the upper hand. "They're dependent, so that puts them in a weak position," Lewis said. "Their hope is that in 10 years, they won't need us anymore."
Read more at CNN's Jethro Mullen and Sherisse Pham contributed to this report.
President Donald Trump has tried to tackle these issues directly. His administration says that the hundreds of billions of dollars in tariffs it's slapped on Chinese goods are part of an effort to stop China from stealing US tech. Officials also say that China must stop forcing companies to hand over trade secrets as a condition of market access. Meanwhile, the United States has targeted Chinese tech companies that rely on US parts.
Growing pressure
China's tech aspirations have garnered concern in the United States for years — especially because Beijing's goals are seen as relying on the misappropriation of American technology.
According to certain media, the US government is pushing Taiwan to restrict its biggest chipmaker from producing semiconductors for Huawei and to institute stricter controls on technology exports to China.
Last month, a US official told Taiwanese diplomats in Washington that chips made by TSMC for Huawei were going straight into Chinese missiles pointing at Taiwan — a statement intended as a "metaphor" illustrating the risks of supplying China.
China has been stepping up efforts to transfer technology between civilian industry and the military, heightening US concerns about supply chains.
Pentagon officials encouraged chip executives to consider new production lines for semiconductors in the United States, said the people, who declined to be identified because the talks were confidential.
When United States President Donald Trump signed without warning an executive order in mid-May to put Huawei Technologies and 70 of its affiliates on the Department of Commerce's "entity list," it upped the stakes in the already tense trade dispute between Washington and Beijing.
Putting Huawei on the entity list meant U.S. companies could not sell goods or transfer technology to the Chinese telecom giant without U.S. government approval. As a result, major American semiconductor players such as Intel, Qualcomm, and Broadcom and memory chip maker Micron immediately issued statements saying they were freezing shipments to Huawei.
Trump's thunder was quickly felt across the Pacific Ocean in China, Taiwan, and South Korea. Samsung Electronics called an emergency meeting soon after Trump signed the order.
"If memory chip maker Micron cannot ship components to Huawei, that may be an opportunity for Samsung," said a Samsung employee, who was on the phone with a Taiwanese tech engineer when the news broke and was called urgently to attend a meeting.
At the same time, at Huawei headquarters in Shenzhen, a Taiwanese product manager responsible for Huawei's notebook computers nervously wondered whether the U.S. blacklist would include American brand chips. When he heard that it would definitely cover American wafer and memory chip companies, the manager said helplessly: "Our notebooks are going to take a hit. They use CPUs from Intel."
Perhaps most noteworthy amid the chaos in the tech sector triggered by the U.S. move and the escalating U.S.-China trade war is that semiconductor vendors from countries outside the United States, including from Japan and Germany, were also announcing they would stop making shipments to Huawei.
Infineon Technologies, formerly the semiconductor division of German conglomerate Siemens, temporarily canceled some of its shipments to Huawei, according to a Nikkei Asian Review report. Another major semiconductor vendor that supplies the underlying architecture for Huawei's chipsets, Britain-based ARM, also announced it was cutting ties with the Chinese company.
After ARM gave the order internally, ARM salespeople and engineers were barred from meeting with Huawei employees and were not even allowed to answer incoming phone calls from the Chinese company, an analyst at a foreign brokerage told CommonWealth, citing an ARM employee.
"Everything has been cut off because meetings could also be seen as transferring technology," the analyst said, quoting the ARM employee.
Trade War Trigging Global Tech Chaos
The U.S. Commerce Department's use of the Entity List in the Huawei case has wielded impressive power. Once Huawei was placed on the list, it was not only American companies that moved to immediately cut ties; foreign companies were also caught in the storm.
PowerPoint presentations by John Haberstock, a regional export control officer at the Commerce Department's office in Hong Kong, whose territory covers Japan, Thailand, the Philippines, Taiwan, Hong Kong, and Macau, explain the export control system.
The Department's Bureau of Industry and Security (BIS) mainly regulates dual-use products that could be used in both commercial and military applications. They include carbon fibers, machine tools, and semiconductors.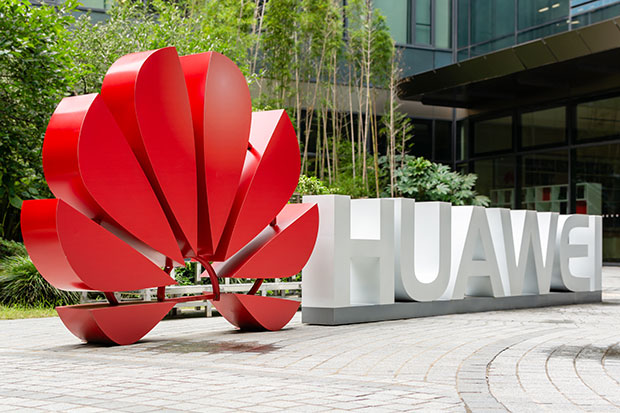 Once Huawei was put on the Entity List, it was subject to U.S. "export controls," or "Export Administration regulations," on commodities, software, and technology either located in the United States, of U.S. origin or found in foreign-made items. The latter classification is the most important to technology companies in Taiwan because it covers "foreign-made items abroad with controlled U.S.-origin content" that exceeds a minimum threshold.
That threshold is 10 percent if the products are destined for Iran, North Korea, Sudan or Syria, and 25 percent for all other countries, including China in which Huawei is based, one of Haberstock's PowerPoint presentations showed.
In other words, if a company sells Huawei a product, and 25 percent or more of its content is of U.S. origin, then that company is considered an American company and must comply with the American government's restrictions on Huawei.
Not surprisingly then, when Trump put Huawei and its affiliates (including its sales agent in Taiwan Xunwei Technologies) on the entity list, it set off chaos among major European and Asian tech vendors.
Not long after the U.S. move, for example, Infineon launched a survey of its suppliers that included a request for a report from a Taiwanese IC packaging company detailing the percentage of components used in packaging materials for Infineon products sourced from American vendors.
After preliminary figures became available, Infineon issued an official statement on May 21. "The great majority of products Infineon delivers to Huawei is not subject to U.S. export control law restrictions, therefore those shipments will continue."
ARM, on the other hand, decided to comply with the U.S. order. The BBC obtained a company memo sent to employees in which ARM instructed employees to suspend business with Huawei, including halting "all active contracts, support entitlements and any pending engagements."
As to why ARM meets the "25 percent" threshold, the BBC wrote that ARM's designs form the basis of most mobile device processors worldwide, including much of the underlying technology for Huawei's chips, and that ARM said in the memo its designs contained "U.S. origin technology."
The analyst with a foreign brokerage said one or more of the cores that ARM has authorized Huawei to use may have originated in the company's R&D center in the United States, justifying the company's contention.
What about TSMC?
At this point in time, the company that has drawn the most attention in Taiwan's high-tech sector in the Huawei affair is TSMC, the world's largest contract chipmaker.
TSMC has become known in recent years as a "Huawei-concept stock" because Huawei subsidiary HiSilicon Technologies, a China-based semiconductor company, is TSMC's second biggest customer behind only Apple. It accounted for 8 percent of TSMC's revenue in 2018 and for 11 percent of its revenue in the first two quarters of 2019.
"My friend at Huawei has said repeatedly that it has prepared all of the components it needs and won't have a problem in the short term," said a Taiwanese tech analyst. He said HiSilicon placed huge volumes of orders for 16-nanometer chips with TSMC in the first half of 2019, in effect rescuing TMSC's first and second-quarter results.
Though the first half is typically a slow period for smartphones, and Apple and Xiaomi both revised their guidance for shipments downwards, HiSilicon, which supplies all of its production of smartphone chips to Huawei, had delivery estimates that were "super optimistic," this analyst said. (Read: Apple's Souring – How's Manufacturing Transitioning in the Post-Smartphone Era?)
"It's true that Huawei was performing better than others. But analysts were discussing among themselves whether Huawei's sales were really that good," recalled the analyst, who believes that now the situation is much clearer.
"There was a reason why they were building up inventory, kind of like just before Pearl Harbor."
HiSilicon has always been the TSMC customer most interested in getting in on advanced technologies. TSMC has just begun mass producing using a second-generation 7nm process, called 7+, that was the first to use hugely expensive EUV lithography technology, and HiSilicon pushed to be the "first guinea pig." (Read: TSMC's Unsung Weapon)
In contrast, TSMC's biggest customer, Apple, has been more conservative, preferring to wait until mass production of the 5nm process using EUV lithography begins next year before moving up the technology ladder.
Legal Gray Area Easy to Manipulate
Soon after Trump's move on Huawei, TSMC immediately expressed its support for its customers.
"We have established a complicated and sophisticated export control compliance system," the Nikkei Asian Review quoted TSMC spokesperson Elizabeth Sun as saying. "Based upon the data in the system, we are not changing our shipping practice for the time being."
CommonWealth asked TSMC whether the statement meant that TSMC had completed internal calculations and confirmed that less than 25 percent of the technology used in the products it shipped to HiSilicon originated from the United States.
"[Export controls] are more than just the 25 percent rule. There are other rules, and our internal export management system tracks and monitors all shipments to ensure that we are in compliance with the rules," Sun said.
The problem is trying to figure out how to calculate the percent of "U.S.-origin" technology in a product and whether it adds up to 25 percent. Who sets the standard? No detailed regulations exist in the Department of Commerce's public documents, leading to different opinions on the issue.
One former executive at IC design house MediaTek believes TSMC would have a hard time falling under the "25 percent" threshold because the machines used in wafer foundries, such as for etching and CMP (chemical-mechanical planarization), generally come from leading American semiconductor machinery vendor Applied Materials.
"Of its equipment, at least 60 percent comes from Applied Materials, so it would be hard [for TSMC] not to exceed the 25 percent threshold," he says.
But the analyst with a foreign brokerage said that if you carefully calculate the cost structure of a wafer, it includes spending on R&D, management, and manpower costs. Almost all of TSMC's R&D team and management team is in Taiwan, and therefore once you have figured in all of those expenses, U.S. content in the product may be below 25 percent.
HiSilicon's Threat to U.S. Companies
Many Taiwanese semiconductor players believe that ARM and key American electronic design automation (EDA) companies have dealt a severe blow to HiSilicon by suspending their technical support of the Huawei subsidiary.
But it cannot be ruled out that the U.S. government might take even tougher measures against Huawei and HiSilicon (such as putting China in the same export control category as Syria, Iraq, North Korea and Sudan and subject it to the 10-percent U.S. origin rule) because of the future threat HiSilicon poses to U.S. companies in 5G.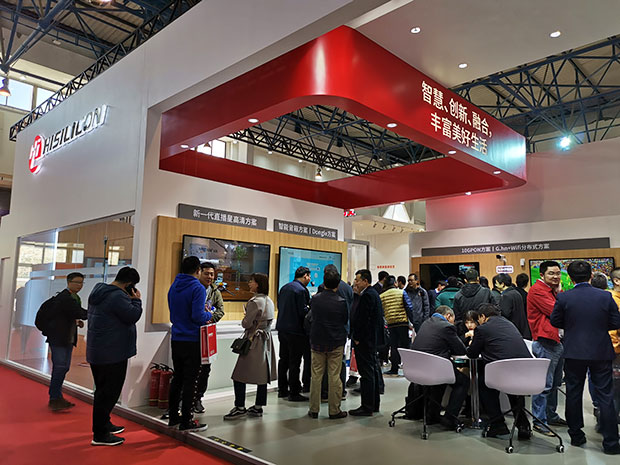 HiSilicon is TSMC's second biggest customer behind Apple. The Huawei subsidiary accounted for 8 percent of TSMC's revenue in 2018 and for 11 percent of its revenue in the first two quarters of 2019. (Source: HiSilicon)
In January, U.S.-based Alliance Bernstein took the rare step of issuing a research report on an unlisted company, releasing an 18-page report titled "HiSilicon – Another National Champion You Have Yet to Know" that described in detail this new IC design star that had hidden behind Huawei until the U.S.-China trade war broke out.
The report estimated that HiSilicon had sales of US$7.6 billion in 2018, only slightly below that of Taiwanese IC design house MediaTek, which saw sales edge lower to NT$238.1 billion last year. It forecast that HiSilicon, which has averaged annual sales growth of 20-30 percent, would surpass MediaTek this year to become Asia's biggest, and the world's fifth largest, IC design company.
The report also revealed something not previously known to many players in Taiwan's tech sector – that Huawei has made great strides in the cloud market in recent years and was now ranked first and second in market share, respectively, in China's storage and server markets.
Some of those machines are equipped with ARM server processors designed by HiSilicon, and this year Huawei came out with a third-generation product using TSMC's 7nm process, directly threatening Intel's core business. (Read: Taiwan, Unexpected Beneficiary of US-China Trade War)
It remains unclear when and how the U.S.-China trade war will be resolved, but whatever the solution, fault lines in the global high-tech battleground are emerging that are likely to have long-term implications.
Translated by Luke Sabatier
Edited by Sharon Tseng
Innovations Made in China during the 1990s by Telecom Equipment Industry
Aug 09. 2019
Huawei announces the much-awaited #HarmonyOS, the operating system that will provide users with a holistic intelligent experience across all devices and scenarios.
→Huawei and ZTE as non-state-owned companies were excluded from TMFT while they were focusing on the localization of technological innovation as the Chinese government has established as a major goal for the development of China.
→ Discovery and Implementation of "HJD-04" digital telecom switch model in 1991
California fifth-largest economy in the world
The economy in California has soared in recent years, surpassing that of the United Kingdom to become the fifth–largest economy in the world. The state sits behind the United States, China, Japan, and Germany. 
In 2021, California's GDP was $3.2T, representing 14.6% of the total U.S. economy. California's economy is so big that if it were a country, it would be the 5th largest economy in the world, more productive than India and the United Kingdom.
California is home to home to nearly 40 million people. The state has 12 percent of the U.S. population but contributed 16 percent of the country's job growth between 2012 and 2017. Its share of the national economy also grew from 12.8 percent to 14.2 percent over that five-year period, according to state economists.