Africa China Relationship: Model or Deception
Dr. Said El Mansour Cherkaoui updated 8/28/2022 – 14/20/2018
Reaching Another Level in Sino-African Business and Trade Relations along Social and Cultural Cooperation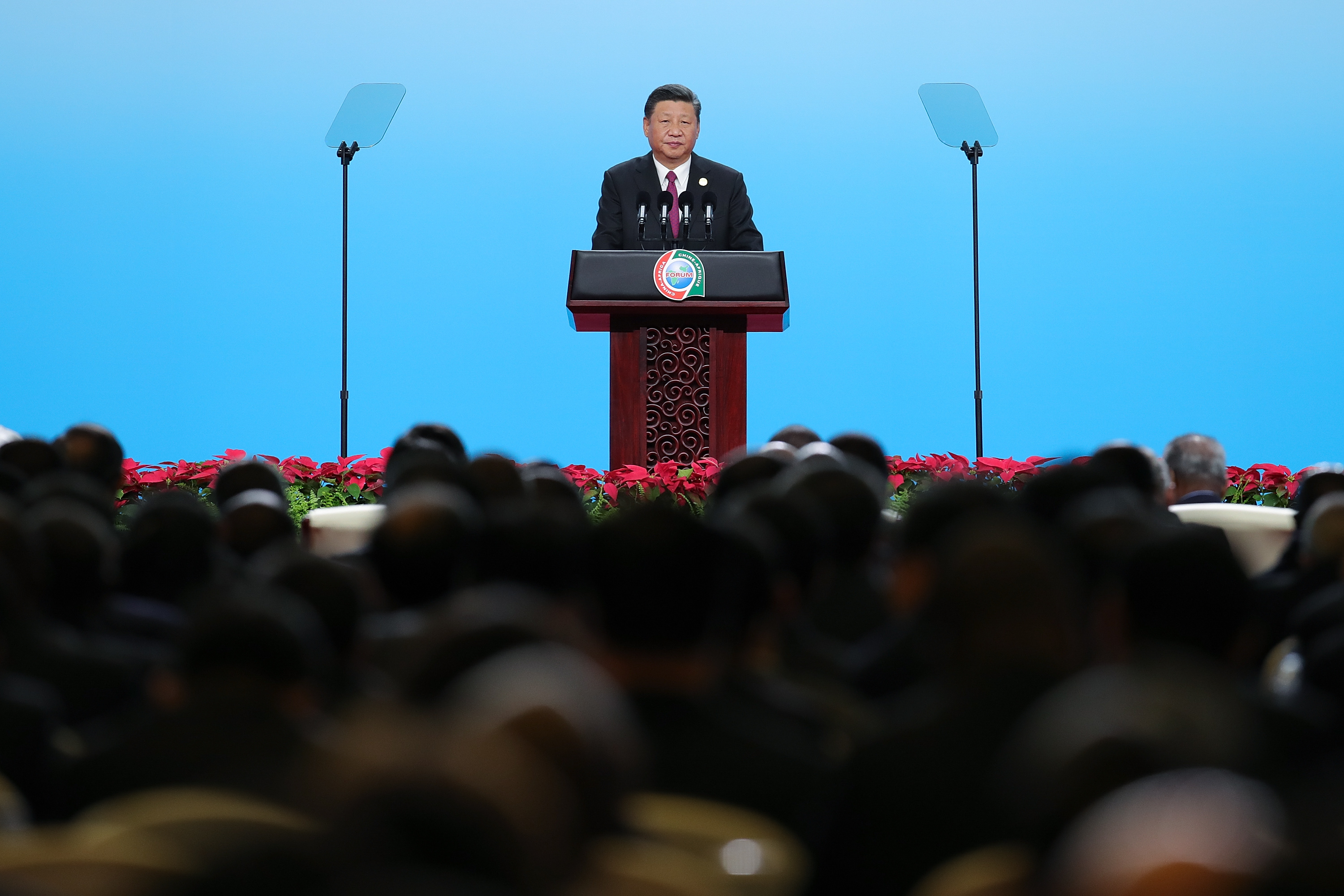 "China's cooperation with Africa is clearly targeted at the major bottlenecks to development"
---
What are the possibilities for such advances in the economic and financial cooperation between Morocco and China?
Is the High Speed train can be the driving force to increase and consolidate the Moroccan – China relationship?
---
"This bill is about more than chips. It's about science as well… It authorizes funding to boost our research and development funding… This increased research and development funding is going to ensure the United States leads the world in industries of the future, from quantum computing to artificial intelligence to advanced biotechnology. – President Biden

… Read more
#quantum #AI#chips boom in #siliconvalley is here! – Tate Yoko Research Institute – TRI – 8/22/2022
---
China's President Xi pledges another $60 billion for Africa
"Resources for our cooperation are not to be spent on any vanity projects, but in places where they count the most."
President Xi said, in a possible preview of his speech to the summit. Chinese President Xi Jinping visited Africa the week of 7/20/2018 as Beijing moved to further cement its role as one of the continent's closest economic and diplomatic allies.
On Monday September 3, 2018, Xi outlined eight major initiatives in Africa over the next three years, including plans to establish a China-Africa trade expo, provide one billion reminbi ($146 million) in food aid, extra imports to China from Africa, and a push for green development.
Xi also invited African business leaders to help his country in building the Belt and Road Initiative, an ambitious collection of trade and infrastructure projects involving 68 countries. Leaders of 53 African nations descended on the Chinese capital Monday for the start of the two-day summit, largely seeking financial support for their developing economies.
The announcement was made during the Forum on China-Africa Cooperation (FOCAC) in Beijing, a triennial meeting between senior Chinese leaders and their counterparts from across Africa. The financial package is the same amount Beijing pledged at the previous FOCAC summit in 2015, and is in line with analysts' expectations that Xi would not vastly increase the amount of Chinese money flowing into Africa. Africa has borrowed about $130 billion from China since 2000, with loans generally used to finance infrastructure projects.
Earlier this year, the IMF warned that the African continent is facing a debt crisis, with 40% of low-income countries now in debt distress or at high risk of this. The pledge in 2015 was three times the figure announced at the 2012 forum. Over the past nearly two decades, the numbers coming out of FOCAC have generally risen with each event. Scholars from the China-Africa Research Initiative (CARI) at Johns Hopkins University found that Chinese loans were not yet a major contributor to this debt distress for most nations. Zimbabwe, for example, still owes 77% of its national debt to the Paris Club. In Djibouti, however, China holds 77% of national debt, while Zambia's $6.4 billion in Chinese loans represents the lion share of its commitments.
The levels of debt owed by African and South Asian nations to China have raised concerns in the West and among citizens – but roads and railways have been built that would not exist otherwise:
It has already funded trains, roads, and ports, with Chinese construction firms given lucrative contracts to connect ports and cities – funded by loans from Chinese banks.
China Direct Investment in Africa and Decline in global Chinese investment
9/29/2018
China's annual foreign direct investment outflows dropped for the first time ever in 2017, per a government report. The decline comes after a "surge" of Chinese investments in the U.S., including the purchase of the Waldorf Astoria Hotel in 2015, per CNBC. Cross-border deals between both countries have been under more scrutiny; Beijing's intensified scrutiny of outbound flows wants "to stem capital flight," and the Trump administration says "national security [is] slowing or preventing Chinese acquisitions of U.S. companies," which include tougher US regulatory reviews of inbound Chinese acquisitions through the Committee on Foreign Investment in the United States (CFIUS), the primary government body responsible for reviewing foreign acquisitions of US companies for national security risks.
On June 27, the White House released a statement from President Trump announcing his support for bipartisan legislation currently under consideration in Congress to broaden CFIUS's authority.
"This legislation, the Foreign Investment Risk Review Modernization Act (FIRRMA), will enhance our ability to protect the United States from new and evolving threats posed by foreign investment while also sustaining the strong, open investment environment to which our country is committed," said President Donald Trump in a statement. Both chambers of Congress recently passed different versions of FIRRMA, which means the House and the Senate will need to reconcile their bills before President Trump can sign the legislation into law. Both versions would broaden the scope of investments subject to CFIUS review to include nonpassive investments in "critical technology" or "critical infrastructure" companies. "Should Congress fail to pass strong FIRMMA legislation that better protects the crown jewels of American technology and intellectual property from transfers and acquisitions that threaten our national security—and future economic prosperity—I will direct my administration to deploy new tools, developed under existing authorities, that will do so globally," Trump said.
The 2016 boom in Chinese FDI was driven by just four Chinese firms seeking to diversify their holdings. As Beijing moves to reduce the leverage of its heavily indebted private conglomerates, many Chinese companies are now being pushed to sell their overseas assets to pay off loans. As a result, Chinese companies are divesting their assets in the United States at an unparalleled pace: in the first five months of 2018, Chinese investors sold $9.6 billion worth of US assets, with another $4 billion of sales pending, making net FDI inflows to the United States negative by some $7.8 billion. Another report, released in June by the U.N. Conference on Trade and Development, found that growth in FDI around the globe is on the decline. Global FDI flows fell by 23 percent in 2017, to $1.43 trillion from $1.87 trillion a year earlier. Flows to developed economies dropped by one-third, while investment into the United States fell by 40 percent, to $275 billion from $457 billion in 2016.
➲ In Uganda, Chinese millions built a 50 km (30 mile) road to the international airport
➲ In Tanzania, a small coastal town may become the continent's largest port
➲ GHANA_October: The Standard Bank Group, parent company of Stanbic Bank Ghana, and the Industrial and Commercial Bank of China Limited (ICBC), signed two agreements which will provide a framework for cooperation in trade and the settlement of netting of precious metals transactions.
➲ DR CONGO_September: Minmetals Resources Ltd. announced it will buy Congo-focused copper miner Anvil Mining Ltd. for $1.29 billion, which will create a platform for Minmetals to expand further into the central African copper belt and southern Africa.
➲ SOUTH AFRICA_September: China agreed to $2.5 billion in investment projects with South Africa during a three-day trip to China by Deputy President Kgalema Motlanthe. In addition to the agreement between the Development Bank of South Africa and China Development Bank, the two countries also signed a memorandum of understanding on geology and mineral resources.
➲ ETHIOPIA_October: Coal-mining company LontohCoal signed a two-year HK$800-million agreement with China-based Chuanhui Group for the delivery of 480,000 t/y of coal. The company will transport anthracite from its Kwasa Anthracite colliery, in Mpuma- langa, to China Chuanhui Group subsidiaries Huangshan Cement and CH Clinker, in Ethiopia. The first shipment comprising 25,000 t is expected to be delivered in September.
➲ MOZAMBIQUE_September: Prime Minister Aires Ali laid the first stone for the construction of $439 million housing complex in the city of Matola, which will be built by China's Henan Guoji Industrial and Development company and include 5,000 houses, roads, schools, clinics, and shopping centre along with infrastructure for electricity, water and sanitation.
➲ MOZAMBIQUE_October: The Mozambican government granted a heavy sands prospecting license to Africa Great Wall in the Angoche district of Nampula province. Africa Great Wall will invest $30 million to achieve production of 200,000 tons of ilmenite, zircon and rutile at the Sangage mine, to be used in aviation, manufacturing orthopaedic items, paints, plastics and for other purposes. Source: www.thebeijingaxis.com
China's annual foreign direct investment outflows declined in 2017 for the first time on record, according to a government report released Friday.
Beijing would like to stem capital flight, while the Trump administration is citing national security reasons for slowing or preventing Chinese acquisitions of U.S. companies. The drop came as leaders of the world's two largest economies increased scrutiny on cross-border deals, following a surge of Chinese investments in the U.S. — which included the high-profile purchase of New York's landmark Waldorf Astoria hotel by Chinese insurer Anbang in 2015.
In 2015, China's annual outward direct investment dropped 19.3 percent to $158.29 billion, from $196.15 billion in 2016, according to government statistics. That marked the first decline recorded in data going back to 2002, according to the report from China's Ministry of Commerce, National Bureau of Statistics and State Administration of Foreign Exchange.
Figures from 2002 to 2005 include only non-financial outward foreign direct investment, while numbers from 2006 onward include all industries.
Chinese investments in the U.S. was $6.43 billion in 2017 — down 62.1 percent from a year ago, the report showed. In contrast, flows to Europe rose to a record $18.46 billion in 2017, or 72.7 percent higher than a year ago, the report said.
September 2018 China's Energy Needs
China's economy, which had averaged an annual growth rate of 10 percent for three decades until 2010, requires substantial levels of energy to sustain its momentum. It has become the world's largest energy consumer and producer [PDF] in the world. Though China relies on coal for much of its energy needs, its oil consumption is second worldwide. Once the largest oil exporter in Asia, China became a net importer in 1993 and has surpassed the United States as the world's largest importer of oil in recent years. The International Energy Agency's World Energy Outlook 2014 [PDF] projected that China will become the world's largest consumer of oil by the early 2030s.
China's second-largest source of crude imports after the Middle East is Africa, from which it receives 1.4 million barrels per day, or 22 percent [PDF]. Angola was China's third-largest oil supplier in 2016. Other African oil suppliers include the Republic of Congo and South Sudan.
---
Economic ties between China and the African continent have deepened as China's economy has thrived. China surpassed the United States as Africa's largest trade partner in 2009. China is a destination for 15 to 16 percent of sub-Saharan Africa's exports and the source of 14 to 21 percent of the region's imports, according to estimates from Thomson Reuters and the World Bank. While the majority of Africa's exports to China are comprised of mineral fuels, lubricants, and related materials, it also exports iron ore, metals, and other commodities, as well as small amounts of food and agricultural products. China exports a range of machinery, transportation, communications equipment, as well as manufactured goods to African countries.
China is a significant source of foreign direct investment in Africa; offers development loans to resource-rich nations, like Angola; invests in agriculture; and develops special trade and economic cooperation zones in several states, including Ethiopia, Nigeria, and Zambia. "Chinese banks and companies are offering finance that allows them to secure a greater share of the business deals [PDF] in Africa as part of their move to 'go global.' This brings with it risks for African borrowers—but also opportunities," write Brautigam and Jyhjong Hwang of SAIS-CARI.
---
Chinese financing comes often in the form of loans and credits provided by the People's Bank of China, the China Development Bank, the Export-Import Bank of China, and the China-Africa Development Fund. Between 2000 and 2014, Chinese banks, contractors, and the government loaned more than $86 billion to Africa, according to SAIS-CARI. Angola, the Democratic Republic of Congo (DRC), Ethiopia, Kenya, and Sudan were the top recipients. However, these large loans are beginning to raise questions about debt loads in African countries, showing indications of a potential debt crisis.
Diversification of China Interests in Africa
Beijing has steadily diversified its business interests in Africa. China has participated in energy, mining, and telecommunications industries and financed the construction of roads, railways, ports, airports, hospitals, schools, and stadiums. Investment from a mixture of state and private funds has also set up tobacco, rubber, sugar, and sisal plantations. Domestic economic conditions drove Chinese firms to break into new markets for its consumer goods and excess industrial capacity as part of China's "going out" or "going global" strategy. Chinese investment in Africa also fits into Chinese President Xi Jinping's development framework, "One Belt, One Road," which joins a continental economic belt and a maritime road to promote cooperation and interconnectivity from Eurasia to Africa.
More on:
China in Africa | Council on Foreign Relations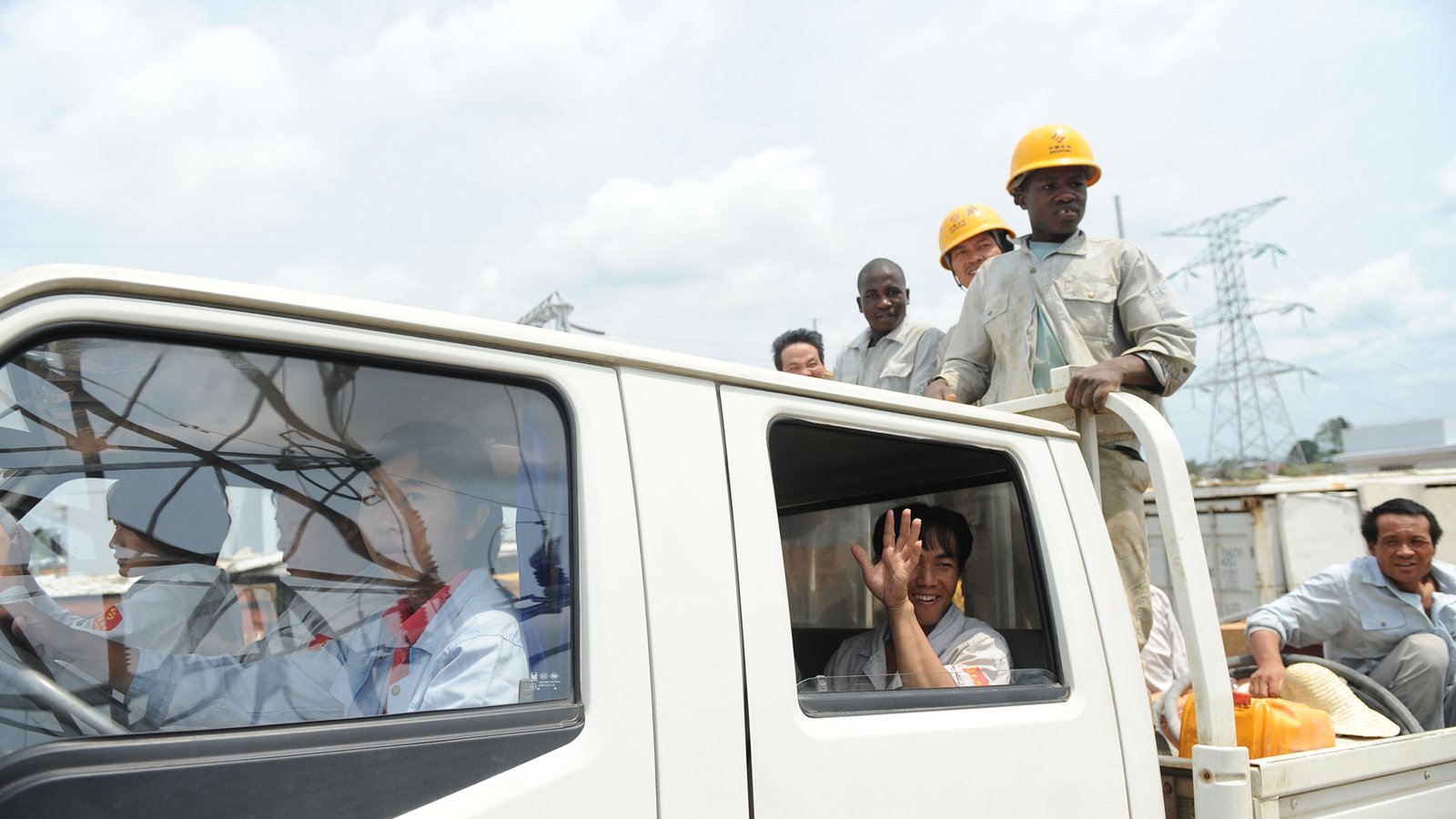 – China-africa
– China has become Africa's largest trade partner and has greatly expanded its economic ties to the continent, but its growing, … Read more
---
Africa: A Reflection of China?
04/07/2013
When the then recently built African Union (AU) headquarters was unveiled in Addis Ababa, Ethiopia, earlier this year, the $200 million structure now the capital city's tallest building caused a splash. But it wasn't just the mammoth building's impressive spec sheet that drew comment, it was also the project's bankroller; China. It is believed that China spent over 200 Million Dollars for the construction of this edifice.
The Chinese government has been leading a construction boom across Africa, setting up huge dams and infrastructure projects, soccer stadiums, and even the world's third largest mosque in Algeria. And the lavish new AU headquarters was paid for in its entirety by the Chinese government.
---
The Long Road to Reform AU, Beyond Reach
When African leaders established the African Union Institutional Reform Program in 2016 and charged the President of Rwanda, Paul Kagame, with leading the reform efforts, there were great expectations that the continental body, which has been taking on more than it can handle, would be somewhat reformed. However, as time passes, the arduous goal is … Continue reading
---
The towering edifice houses three conference centers, its own helipad, and enough office space to accommodate 700 workers. The 20-story high complex, designed by the Architectural Design and Research Institute of Tongji University, also features an impressive entrance.
Though it is widely believed that Chinese companies refuse to hire Africans and bring in all their own workers to execute their projects.
In February, the government of Algeria signed a contract with the China State Construction Engineering Corporation (CSCEC) to build what will be the third-largest mosque in the world and the largest outside Saudi Arabia. The facility which will be stretched across a 49 acre compound, boast a 900-foot-tall minaret, and have room for 120,000 worshippers. This is a means for the Algerian President to leave his mark in the history of Algeria.
Ghana also gave out a project for the construction of dam by China's Sinohydro since 2009 and is due to be completed next year. As many as 2,600 people are being relocated for the 300 foot dam, which will flood a significant portion of the Bui National Park, home to two populations of black hippos as well as rare species of monkeys, lions, and leopards. The project will join Sudan's Merowe dam, whose 174 square kilometer reservoir forced the relocation of 50,000 people, and Ethiopia's Tekeze Dam, which at over 600 feet is the continent's tallest, among China's most ambitious hydroelectric projects in Africa.
The congress center in Equatorial Guinea, built by CSCEC, was originally commissioned for the purpose of hosting the 2011 African Union Heads of State Summit. The glass-encased avant-garde structure was designed by a Turkish architecture firm and built to filter in external light without overheating, while still providing stunning views of the Malabo oceanfront. The convention center which has been shortlisted for international architecture prizes is part of a new "city" of mansions and construction centers built near Malabo by the notoriously kleptocratic Obiang regime. It's just one of a number of Chinese built projects that recently went up in the capital of the oil-rich but impoverished West African country, including a 15,000 seat stadium built for the 2012 Africa Cup of Nations.
Despite the fact that half of Angola's population lives on less than $2 a day, a thriving oil sector and a housing shortage has made the capital city of Luanda one of the most expensive places to live in the world. So it is not surprising that the budding petrostate's government is thinking big in terms of new housing projects. Some 20 miles south of Luanda, Chinese contractors are at work on a new city known, for now, as Kilamba Kiaxi, the first phase of which is due for completion in December 2012, which will provide housing for 120,000 people in 710 apartment buildings, as well as schools, shops, and parks. Incredibly, Kilamba Kiaxi is just the largest of seven new cities the government plans to build throughout the country.
Kilamba Kiaxi, a new underpopulated city outside Luanda, Angola built by Chinese construction company CITIC and financed by Hong Kong-based China International Fund. "Even in China, I didn't see such a big, large-scale project," said Wu Zhixin, chief engineer for CITIC, the contractor on Kilamba Kiaxi. "In China, 500,000 square metres would be a big project. This one is 3.3 million square metres."
In kenya, the 31 mile long road being built by three Chinese firms connecting the capital city of Nairobi to the central Kenyan hub of Thika will be the largest road in East Africa at some places, 16 lanes wide. Apartment buildings are already springing up along the road, which it is hoped will help cut back on the notorious Nairobi traffic and help link the Kenyan economy with Ethiopia to the north. Unlike other countries, where China has launched major road-building projects the Democratic Republic of the Congo and Nigeria, for instance Kenya is not resource-rich. But projects like this one may help Chinese business set up an early foothold in one of the continent's main economic centers. Chinese exports to Kenya are already over $800 million per year.
In Nigeria communications satellite NigComSat 1 was successfully launched in 2007 in China but de-orbited in November 2008 due to malfunction of the solar array deployment assembly. China decided in 2009 to build NigComSat 1-R to replace the defunct one without adding additional costs to Nigeria.
NigComSat-1R, covering Central, Western and Southern Africa, Central and Eastern part of Europe, and some areas of Mid-Asia, will be mainly used for communications, broadcasting, tele- education, broad-band multimedia service and navigation service.
The question is why is China spending huge amount of money for projects in Africa?
What diplomatic benefits accrued to Africans by this gesture?
We hope this open secret will be revealed to the continent Africa soon.
Source: http://africanleadership.co.uk/africa-a-reflection-of-china
Growth and Change in Africa
China Econometer – The Econometer – VOL. 3 November 2011
According to the latest projections from the African Development Bank (ADB), Africa's middle class will triple to more than 1 billion people in the next half-century as it predicts gross domestic product growth in the continent will exceed 5 percent a year over the same period.
In recent years, Africa has been a somewhat overlooked source of stable growth amidst global economic turmoil which has brought growth in developed markets to a standstill. China's increased engagement with the continent is well documented, with trade between China and Africa exceeding $110 billion in 2010, a tenfold increase over the past decade.
To accommodate the needs of Africa's growing middle class ranks, China will continue on the current path, with a few minor changes.
According to the ADB, Chinese investment in African infrastructure has remained stable at about $5 billion a year. However, much of that is a result of direct engagement with national governments. China must engage with regional bodies, with investment projects that transcend national boundaries, so that the impact can be greater. Investing in regional projects will require China to work closer with African regional groupings such as the East African Community, the Southern African Development Community, and the Common Market for Eastern and Southern Africa.
With pressing infrastructural demands in landlocked African countries that need access to the nearest sea ports, including Uganda, South Sudan, Zambia and Malawi, establishing regional transport infrastructures will also significantly reduce the costs of Sino-African trade and improve Chinese exporters' accessibility to Africa's growing consumer markets.
Currently, global manufacturers looking to shift production to lower cost countries complain that African transport prices are too high. Chinese manufactures to establish manufacturing faculties in Africa itself, to directly serve the African market. Developing industry in Africa will help diversify its economy, commercialize its agricultural sector, and become less dependent on the price of commodities. By 2060, China is projected to receive 60 percent of African exports, up from 5 percent today.
To realize this projection, Africa's leaders will need to complement Chinese regional engagement by realizing a common vision and moving beyond free-trade agreements to real integration of licensing, border control and visas etc., in order to better engage with the Chinese government, EPC contractors and other Chinese entities. Rather than having a few select countries becoming relevant on the world stage, greater coordination between leaders and regions will help ensure Africa will become a global force. Only then can Africa and China fully take advantage of the opportunities presented in this new era of Sino-African relations.
Said El Mansour Cherkaoui Silk Road to China
Media contact: cherkaouijournal@gmail.com
---
fr.moroccodigitall.com – moroccodigitall.com and Said El Mansour Cherkaoui by Dr. Said El Mansour Cherkaoui is licensed under a Creative Commons Attribution-NonCommercial-NoDerivatives 4.0 International License.
Based on a work at fr.moroccodigitall.com – moroccodigitall.com .